Move it: Transportation Services - Doing What We Say Since 1974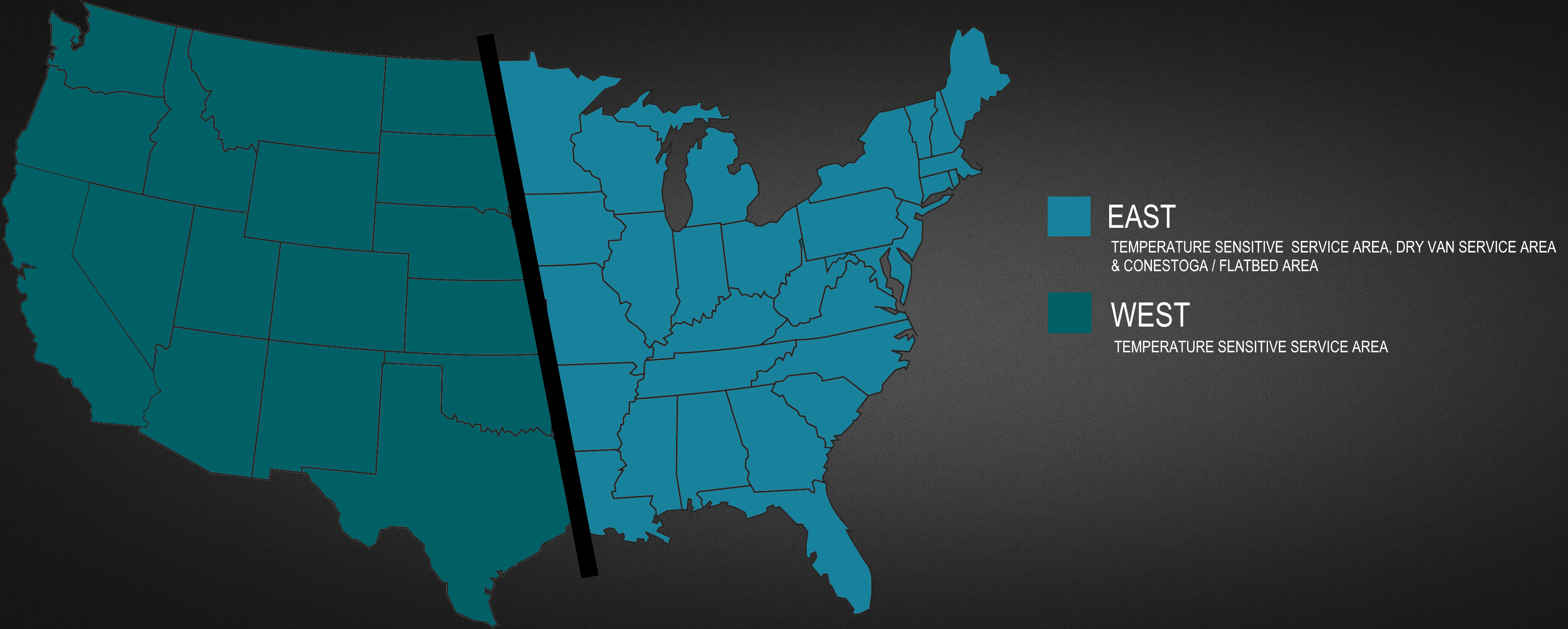 Shipping Services Tailored to Your Needs
At Calex, our shipping services are about more than just taking your goods from point A to point B. They're about offering a range of integrated services so everything from pickup to delivery contributes to a competitive advantage and effective supply chain management.
We have a long history of safely and reliably transporting a wide range of products, from raw materials to fragile consumer goods, and we can tailor or services to match your exact needs.
The Most Reliable Freight Shipping
At Calex, we offer dedicated transportation services so you can reliably and safely move your goods to their final destination. This is a critical part of the supply chain, so we work hard to provide the options you need, including:
Temperature-controlled shipping – Refrigerated shipping is for perishable goods so you can ship frozen and fresh without concern.
Dry van services – This is generally for shipments east of Mississippi, and we have a 48,500-load capacity – which means an 8% competitive advantage.
Flatbed/Conestoga service – This is an option for products that require specialized shipping.
Satellite tracking – You can have complete visibility on your products from pickup to delivery. We make it easy to remove the uncertainty of freight location through the Calex Web Portal.
JIT and multimode – These are offered throughout the domestic U.S.
Our business relies on the successful completion of every single shipment, which is why we are so dedicated to customer service and on-time delivery. To that end, we have achieved:
A CSA rating that exceeds the industry standards. (Check out fmcsa.dot.gov for more information.)
A 99.7% on-time service history.
Contact us today to learn more about our shipping services and how we can streamline your supply chain.
How It Works
The transportation industry is not a one-size-fits-all kind of service. There are several important elements that factor into the best solution for your situation.
In general, trucking is segmented by the size of your cargo and the distance travelled. At one end, you have the full truckload freight (TL) for larger shipments that are likely going to travel a long way. Less than truckload (LTL), on the other hand, covers a shorter range for shipments that require more than a parcel carrier but won't fill a full truck.
Our transportation capabilities can connect you to nearly 50% of the U.S. population same or next day from our facilities, and we can tailor our services to your exact needs.
When you request an online quote, we will need to learn some details about your industry and products, such as the number of cases/units per pallet, pallet size, average inventory on hand and annual throughput. Are your shipments seasonal and how will they arrive at the warehouse? How many SKUs in an average order?
This process is very detailed, but it is critical to ensure we align our services with your needs.
Professionalism from Pickup to Delivery
At Calex, we understand that our shipping services can have an impact on your brand. Timely deliveries, safe storage, professional drivers, warehouse managers, and dispatchers all contribute to your brand's image.
We strive to ensure that everyone on both sides of the pickup and deliver maintain a professional manner so they will always leave a great impression.
Focus on Safety and Reliability
The safety of your products is priority ONE at Calex.
This is something we can't say enough. The safety of your shipment, of our associates, and of the general public weighs into every one of our business decisions.
Every year, our trucks cover nearly 15 million miles, delivering a wide range of products in many different industries. It takes a lot of dedication and experience to ensure everything gets where it is supposed to go in the safest and most efficient way possible.
To ensure the highest level of safety and reliability, we focus on:
Truck maintenance – Every shipment matters, so we work hard to keep every vehicle running at peak efficiency. This means regular vehicle inspections, repairs, and replacements.
Driver improvement – Drivers are expected to avoid risky behaviors on the road and understand what to watch for while they're driving to avoid potential issues.
Client engagement – We want you to stay in the loop from the beginning to the end. We make it easy for you to monitor your shipments with our tracking system so you'll always know where your products are at any given time.
While we employ high-end technology as part of our services, it's the fleet and warehouse managers as well as the drivers themselves who ensure that it all comes together in single, safe, and effective solution.
Transportation: A Critical Element of Supply Chain Management
How you ship your products is just as important as how you store them.
Together, shipping and transportation are integral parts of your supply chain, and when everything is working together effectively, you can expect a number of important benefits, including:
A competitive advantage
Higher ROI
Lower overhead
Effective risk management
Sustainability
Reduced inefficiencies
Cash flow improvements
Better demand prediction
More ability to meet customer demand
Start working with Calex today to manage your supply chain and experience these benefits for yourself.
Full Supply Chain Integration
At Calex, our supply chain management solutions involve fully integrating our storage and transportation services. This means you get to take advantage of our warehousing facilities and get:
A range of storage space options
Flexible pricing
High-tech security and monitoring
Material handling equipment
Fulfillment services
A range of additional services
All of our storage facilities are company-owned and operated, which gives us the ability to offer the flexible terms you want. We also ensure that everyone here is trained to the highest standards, so the safe storage, loading, and unloading processes go as smoothly as possible.
We've also installed the latest technology for inventory control and warehouse management, so we can consistently meet your needs and keep your products moving.
Streamline Your Supply Chain Management
When you integrate shipping and warehousing, you can really start to expand your distribution options and capabilities while reducing the risks associated with storing the products yourself. It also allows you to focus your attention on other aspects of the business and the supply chain, so you can meet the needs of your customers and grow your company.
Our transportation capabilities can connect you to the highest concentration of customers very quickly, and we have the experience to manage these elements of the supply chain effectively and efficiently.
Why Work with Calex ISCS?
At Calex, we live by one single commitment: "Say what you can do and do what you say".
In other words, we provide clear, honest, and direct information about our transportation services and how we can better help you reach your customers. We strive to help you discover the shipping options that can reduce your costs while streamlining your operations.
Over the years, we have learned a lot about our customers' needs and how our services will impact your image and brand, and these lessons are reflected in how we treat every shipment.
Get in touch with us today or get an online quote and see what we can do for you.