Move it: Transportation Services - Doing What We Say Since 1974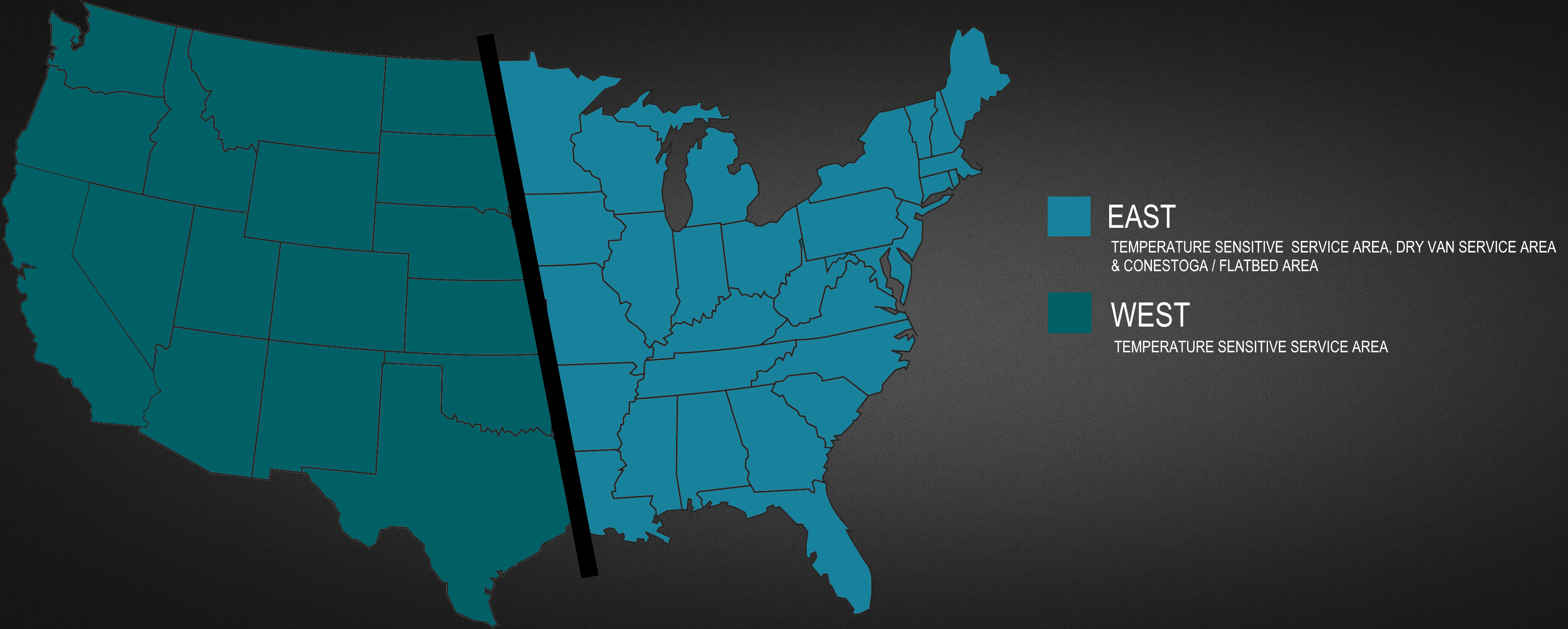 Shipping Services
At Calex, shipping services are about more than just taking your goods from point A to point B. Calex offers a range of integrated services that contribute to a competitive advantage and effective supply chain management.
Reliable Freight Shipping
Calex provides dedicated transportation services that reliably and safely move your goods to their final destination.
Temperature-controlled shipping – Refrigerated shipping for perishable and frozen goods.
Dry van services – Available throughout points east of Mississippi with a 48,500-load capacity – provides an 8% competitive advantage.
Flatbed service– For products that require specialized shipping.
Satellite tracking – Complete visibility of your shipment from pickup to delivery via the Calex WebPortal.
Your business relies on the successful completion of every shipment. Calex is dedicated to customer service and on-time delivery. We have achieved:
A CSA rating that exceeds the industry standards. (Check out fmcsa.dot.gov for more information.)
A 99.7% on-time service history.
Contact us today to learn more about our shipping services and how we can streamline your supply chain.
How It Works
The transportation industry is not a one-size-fits-all kind of service. There are several important elements that factor into the best solution for your situation.
Request an online quote, we will learn some details about your industry and products, and let you know what we can do for you.
This process is very detailed, but it is critical to ensure we align our services with your needs.
Professionalism from Pickup to Delivery
At Calex, we understand our shipping services have an impact on your brand. Timely deliveries, safe storage, professional drivers, warehouse managers, and the operational team all contribute to your brand's image.
Calex associates strive to leave a great impression with your customers.
Focus on Safety and Reliability
The safety of your products is priority ONE at Calex.
To ensure the highest level of safety and reliability, we focus on:
Truck maintenance – Every shipment matters, so we work hard to keep every vehicle running at peak efficiency. This means regular vehicle inspections, repairs, and replacements.
Driver improvement – Drivers are trained to maintain safe operations.
Client engagement – We make it easy for you to monitor your shipments with our tracking system so you'll always know the location of your product.
Transportation: A critical Element of Supply Chain Management
How you ship your products is just as important as how you store them.
Shipping and transportation are integral parts of your supply chain, and together, you can expect benefits including:
A competitive advantage
Higher ROI
Lower overhead
Effective risk management
Sustainability
Improved eddifiency
Cash flow improvement
Accurate forecast
Ability to meet customer demand
Start working with Calex today to support your supply chain and realize these benefits.
Streamline Your Supply Chain Management
Integrate shipping and warehousing to expand your distribution options and capabilities. Calex focuses attention on meeting the needs of your customers.
Why Work with Calex ISCS?
At Calex, we live by the commitment: "Say what you can do and do what you say".
Since 1974 Calex has been committed to building the brands of our customers through cost efficient and dependable supply chain solutions
Get in touch with us today or get an online quote and see what we can do for you.