Viewing posts categorised under: Uncategorized
10
Jan
Shipping costs continue to increase throughout the country in 2018, even affecting industry giants like Amazon, General Mills, and Walmart. These increases are being passed down to the consumer via increased prices of everyday goods. One of the main reasons for increased shipping costs – a nationwide driver shortage that shows no signs of getting better.
While the economy is doing well, the trucking industry cannot keep up with the demand. Ask any transportation company why costs are going up they will tell you the same thing. Regardless of how much a load pays a driver, there just are not enough available to move the freight customers need as quickly as they need it moved. Driver shortages in America have been an issue for years, but never to this degree. With low national unemployment rates the pool of potential drivers is at a low point, and many are not interested in the job.
Most millennials are not interested in being truckers because of the long hours, stressful work environment, and isolation that can come with the job. Along with these factors, many do not see a future in the industry, as self-driving trucks from Waymo and Uber inch closer and closer to becoming a reality. While these trucks are still years away from being a regular occurrence on the road, inroads are being made, as Waymo just launched a self-driving tractor pilot program in Atlanta.
The Electronic Log Mandate going into effect across the country is also causing existing drivers to drive fewer miles, as they are now federally mandated to be able to be on the road for no more than 11 hours at a time. New required electric logging devices also stop less scrupulous drivers from lying about their drive time on the road. While these devices increase safety, they have cut down on how much freight is moved across the country.
With the driver shortage as it is, one of the most effective tactics companies have to hire and retain new drivers is to raise driver pay and provide additional benefits. While this is good for the driver, it is bad for everyone else, as the higher driver pay causes an increase in operating costs for the trucking company, which causes higher shipping rates for trucking company clients, which causes higher prices for the everyday person shopping at the grocery store or local mall.
While no one is a fan of higher store prices, it is the reality of today's world. Online shopping and the retail industry continue to outpace the rest of the economy, especially the transportation industry. This is the reality of the world we live in, and higher prices of everyday goods may just be the new norm. Inflation has remained low over the past decade because companies found ways to be more efficient in their daily operations, offsetting their rising operating costs. That is not something that can continue to happen forever, and we are now only beginning to understand how that will affect the rest of the economy.
-Ian Bell-
15
Nov
Recruiting and retaining truck drivers can be an uphill battle.  If you own, manage, or have a role as a driver recruiter than you already know the struggle and most likely have experienced this!  Also, you understand the industry's unending shortage of truck drivers and the climbing numbers in turnover rates.
American Trucking Association reports that the turnover rate for truckload carriers has grown and drivers are becoming scarce.  The prediction is that the low and stable turnover rate could be short-lived and the driver shortage will become more and more of a problem.
Calex is enhancing our company driver health benefits, increasing our driver pay by 10% to stay competitive with the market and ensuring our drivers are being appreciated the way they want to be.  We are a family owned business and keep that culture alive in our workplace environment from day to day.
Linked is a good article to read on driver retention!
http://bit.ly/2zHkSWq
09
Nov
How often have you called a company only to be told they could not help you?  Yet a customer's need should be their main focus.  Sometimes a request is cost prohibitive. Shouldn't there be options?  We too have experienced this exact situation while running our own business.
Calex's purpose is to help companies of all sizes maximize the efficiency in their supply chain and distribution network. We strive to maintain alignment with the current and changing needs of the marketplace by staying proactive.  We have recently introduced a "Cool Ride" program to our current customers and are also rolling it out to new customers as an option to make it easier to choose the right carrier, Calex!  The Cool Ride program offers LTL shipments on refrigerated or dry capacity loads out of Northern New Jersey and Eastern Pennsylvania, shipping to the Southern states.  *See attachment for pricing and specifics.
With that being said, Calex is happy to announce that we recently increased our driver pay by 10% and introduced a new health care package for drivers and family.  Focusing on these market changes, we look for the opportunity to strengthen our core, and offer training programs to newer drivers while attracting qualified and experienced drivers so that we are capable of leading at every turn.
Calex has been a family owned company since 1974, and know the supply chain process and warehouse efficiency. We are up top date with today's latest technology but maintain an old fashioned commitment to customer service.  If you should need either or both of these services please consider Calex to provide your company with expert service levels that will help you maintain your highly regarded reputation in the marketplace.  For any additional information please contact our office at 570-602-3142.
Respectfully,
Calex ISCS
ATTACHMENTS
Calex Cool Ride Program – 2017 – PAE Origin
27
Oct
CBS News recently wrote a piece highlighting the driver shortage epidemic the country is currently experiencing. More than 70 percent of all goods in the continental US are carried by truck, and most companies are having trouble keeping all their seats filled. With Americans buying more goods than ever before the shortage will be exacerbated as time goes on.There is currently a shortage of roughly 50,000 drivers nationwide, and that number is expected to more than triple within 10 years.
Industry experts expect this to cause problems throughout the economy, including product shortages, delivery delays and higher prices as it becomes harder and harder to find willing workers. Demographics are partly to blame, as Millenials are increasingly less and less willing to work the demanding lifestyle of a truck driver. Available drivers are highly sought after, making it a driver's market. It is easy for an unhappy driver to jump ship to a new company with higher pay, as the shortage has left companies desperate for bodies. Many trucking companies now pay for a CDL and on the job training in order to entice drivers to stay.
The trucking business looks to be staying a driver's market for the foreseeable future. While self driving trucks are still years away from widespread adoption, there may be no other option for carriers if the driver supply does not change for the better.
https://www.cbsnews.com/news/america-faces-shortage-truck-drivers/
24
Oct
Calex Integrated Supply Chain Solutions is announcing the implementation of Lytx's product, DriveCam, into our fleet.
The DriveCam program addresses safety by combining data and video analytics with real-time driver feedback and coaching.  Calex has made the decision to incorporate DriveCam's solution as part of its operational initiatives to identify and target the top behaviors contributing to fleet risk.  DriveCam's model identifies behavioral improvement opportunities for increased safety through an iterative process of scoring, prioritizing, and tracking the results of driving behaviors. In-cab video captures driving behavior, which is objectively reviewed and scored, and then passed on to our fleet for use in coaching drivers. Calex will manage the DriveCam program through a web-based online portal.
We recognize the importance of investing in technologies like DriveCam that enable us and our professional drivers to make continuous improvements in safe practices and driving behaviors.
09
Oct
With the ELD mandate fast approaching and Congress looking like it is unwilling to delay the law from going into effect again, many trucking companies are scrambling to make sure their fleets are in adherence. Calex is already prepared for the upcoming change, as we have been running electronic logs since 2009.
We pride ourselves on making sure each and every one of our trucks and drivers are in compliance with the mandate. Overtired drivers are a danger to everyone on the road and Calex makes sure that every time our trucks are on the road they are not a threat to those around them. By making sure we are prepared ahead of time, we are also able to ensure that the needs of our trading partners are met with no interruptions.
25
Aug
This morning we welcomed Charlotte Joyce Potter to our family.
Congratulations to Jason & Kim !!!!!!
Charlotte was born at 1 minute after midnight 5 lbs 10 oz's. Both Mom & Baby are doing great !!!!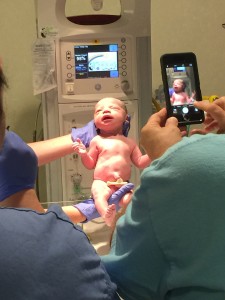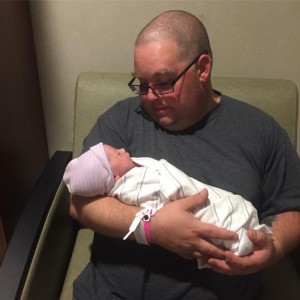 17
Aug
Safety is priority ONE at Calex. Keeping both our associates and the general public safe is on our minds each and every day. Our company travels approximately 15 million miles each year. As you can imagine it takes a focused team effort to make sure we are all doing the right thing at the right time. Here at Calex before any associate gets behind the wheel they must pass a Speed and Space Management Driving course.
Our training focuses on safety basics. Here are some of the highlighted areas: proper speed, proper spacing, and staying alert to changing weather, road conditions (merging and turning) along with staying aware of the ever changing surroundings they travel in. No accident is a good accident so our focus remains the same: Safety is priority ONE.
Speed can be a huge factor in accidents. Whether someone is going too fast and can't react in time to a stopped vehicle or someone is going too slow for traffic conditions, causing vehicles to have to dangerously pass them, maintaining the proper speed is an essential safety practice. Our focus is to train each associate to operate at the correct speed which allows them to react to most situations.
Proper vehicle spacing is critical to operating a tractor trailer safely. One of our nation's biggest reasons for accidents is tailgating. Our drivers are trained to maintain the proper safety distance at all times. If you've never driven a tractor trailer you'd be surprised on just how long (and feet) it takes to stop one. We tell all of our associates we (our drivers) are the professionals we need to be better than everyone else on the road. By maintaining a safe following distance many accidents can be avoided.
Lately our industry has brought another interesting topic into focus: Driver complacency. This occurs in some cases due to the amount of miles driven week in and week out. Calex is addressing that issue through retraining. One of the things we've learned is like anything else, once you continually and repetitively do something habits (i.e. become lax or unfocused) cause us believe that we can do things that we normally wouldn't. Remaining sharp & aware of road conditions and surroundings allows our associates to notice situations before they become problems and allow them to avoid them entirely.
As long as everyone maintains these basic tenets accidents can be minimized. While we do realize that some accidents cannot be avoided, we do everything in our power to do the right thing each and every day.
17
Jun
Calex prides itself on keeping up with technology, and we are once again upgrading our fleet with the addition of more new Kenworth T680 tractors.
The T680 is the most advanced and aerodynamic truck ever produced by Kenworth. It's design was created after countless hours of CFD, track, and real world testing. The technology included in this model is amazing.
The PACCAR MX-13 engine is state of the art. With a high pressure common rail fuel system and a high power to weight ratio Kenworth's new engine boast higher fuel economy than their previous engines. Built from compacted graphite iron, the block has improved durability while reducing weight for ease of service. Paired with the Eaton Advantage automated manual transmission this tractor is greatly improved over Kenworth's older models.
– Kenworth Idle Management System: This battery based system helps fleets cut down their idle time in hot and cold climates by $3,000 to $4,000 annually per truck.
– Tire Pressure Monitoring System: The TPMS monitors each individual tire and reports back to the driver in real time, allowing for optimum pressure for improved fuel economy and reducing the potential for dangerous blowouts.
– Speed Control Management Systems: Engine software encourages the driver to up-shift at lower RPMs by reducing power. It also encourages drivers to drive in top gear by limiting RPM in the one gear below top gear.
– Adaptive Cruise Control: Kenworth's adaptive cruise control system uses integrated proximity sensors with the engine and braking system to help maintain a steady distance from traffic while maintaining speed.
– Trailer Skirts & Tail: Improves fuel mileage by reducing the low pressure zone at the rear of the trailer and controls air flow below and around the trailer.
– Dead Axle Tandem 6×2 Configuration: This configuration improves fuel mileage through power train efficiency, reduced parasitic drive train loss and weight savings.
– Wide-base Super Single Tires: Reduces weight by 300 lbs and improves fuel mileage.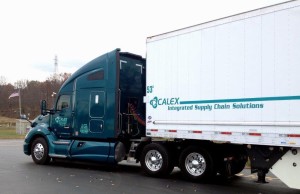 27
Jan
At Calex ISCS, Customer Satisfaction is always our #1 priority. We pride ourselves on our service and dedication to our customers. Here's another testimonial from one of our clients.
"I am covering for my early morning process for a few days and was in to take delivery of our RDC truck this AM.

Over the past months, I have heard many great things regarding our driver, Chris, and the relationship he maintains with our team. He knows them all by name and has a reputation for being a positive influence and a great partner for our team. Just one of many examples… in order to plan and maintain communication before and during the recent storm, he maintained contact with the store team to ensure we were good and to assure us he would be there.

I had the pleasure once again to interact with Chris this morning and I thought it was important to thank him for his professionalism, commitment to working safely, his positive demeanor and helpful style. I know, from past retail experiences, how important a great driver is. Chris is an important and welcome part of our team and a pleasure to get to work with. We are lucky to have the consistency and partnership he provides every morning.

Please pass this along to anyone who has direct reporting relationships with Chris and let him know #3292 appreciates everything he does."

Thank you Chris!!!!